Love, fear and bullying are just a few of the topics in the series Heartstopper by Alice Oseman in which outsider Charlie falls in love with the seemingly straight rugby player Nick. Whether introversion or transsexuality, this series shows a realistic depiction of a diverse and colorful society.
By Julia Klumpe
Pictures: Netflix
The new Netflix series Heartstopper, based on the novel of the same name by Alice Oseman, has been a raging success, not only in England but worldwide. Heartstopper gives an insight into several problems of queer teenagers – like bullying, stereotypical thinking, or unrequited love – and how the characters deal with those issues. Oseman, who published her books on Tumblr first, also wrote the script of the series and will continue to work on the upcoming seasons.
A »Perfect« Relationship
Charlie Spring (Joe Locke), a fourteen-year-old boy who attends »Truham Boys School«, faces some big problems: He unintentionally came out in school, and now has to deal with the consequences. The boys from the Rugby team bully him for being gay. However, Charlie tries to ignore the rude comments and go on with his life as usual. The series remarkably addresses the issue of bullying, especially regarding queer people. It shows how badly mean comments can affect young people and their sense of self-worth.
In the beginning, Charlie is in a relationship with Ben Hope (Sebastian Croft) who treats him badly. When meeting Nick Nelson (Kit Connor), he hopes that he is not like Ben. But again, problems keep occuring. Heartstopper plays with stereotypes here. Everyone assumes that Nick, a popular rugby player, is straight and no one thinks about the fact that it could be different. But, as becomes obvious, sexuality is more complicated than most people think. The series shows the extent to which stereotypes can create huge pressure and then refutes some common clichés.
A Concerned Friend
Tao (William Gao), one of Charlie's friends, tries everything to get Charlie away from Nick. Especially when Charlie joins the Rugby-Team on request by Nick, Tao is very concerned. He is afraid that Charlie will get bullied again. The viewer is led into a clever trap. At first, one does not understand why Tao acts this way, as the series mostly shows Charlie's and Nick's perspectives. It can lead to the wrong conclusion that Tao does not want Charlie to have other friends besides their already existing group.
However, the viewer must keep in mind that Tao does not know what is going on inside Nick and that he has serious intentions towards Charlie. Tao only sees his friend falling for a straight boy who is friends with Charlie's bullies and thinks that Nick is exactly like them. Hence, the perspective of each character is handled in a clever way so that the viewer gradually learns that all the characters' points of view are limited. Therefore, Tao becomes a caring and loving friend who just wants to protect Charlie.
»You seem much more yourself around him«
Nick starts to struggle with his sexual orientation. He believes to be straight until Charlie comes into his life and turns everything upside down. Every time Nick is with Charlie he feels something he has never felt before. The electricity between the two becomes increasingly clear. Through the small, inserted animations, this tension is palpable for the viewer. These emotional outbursts seem so authentic that probably everyone who has ever been in love can put themselves in their shoes. However, after Nick realizes that he is bisexual, not everything turns out to be immediately perfect. Nick sees what his »friends« do to Charlie. Therefore, he is afraid to come out.
UK 2022
1 season, 8 episodes
Director: Euros Lyn
Screenplay: Euros Lyn, Alice Oseman
Starring: Joe Locke, Kit Connor, Olivia Colman, and others

On the one hand, he finally realizes that he wants to be with Charlie but on the other hand he does not want to be bulleid either. His friends do get suspicious about him not having dated a girl in a while. To keep the expectations of him being straight alive he agrees to go on a date with a girl – even though he knows exactly that he will hurt Charlie by doing it. Kit Conner's acting is excellent. His drooping shoulders, stiffened body and insecure facial expression, are suggestive of Nick's situation. The series reflects Nick's emotional chaos in a touching way.
Everyone Is Perfect the Way They Are
Besides being an emotional rollercoaster, Heartstopper shows the everyday life and struggle of different queer teenagers in a beautiful and realistic way. A friend of Charlie's, Elle (Yasmin Finney), is a trans woman who now visits the »Truham Girls School«. She slowly falls for her best friend Tao. Elle is not sure if Tao is even interested in her and they struggle woth their feelings just like Nick and Charlie. When Elle meets Tara (Corinna Brown) and Darcy (Kizzy Edgell) at school, they become new members of the friend group. Tara is one of the reasons why everyone thinks that Nick is straight – just because they kissed once. But Elle quickly finds out Tara's secret. In fact, Tara is a lesbian and in a romantic relationship with her so-called best friend Darcy. The series plays with the expectations and prejudices of a heteronormative society and shows that these are rarely true. Every human being is different in their own way and actions in the past do not define who they are now.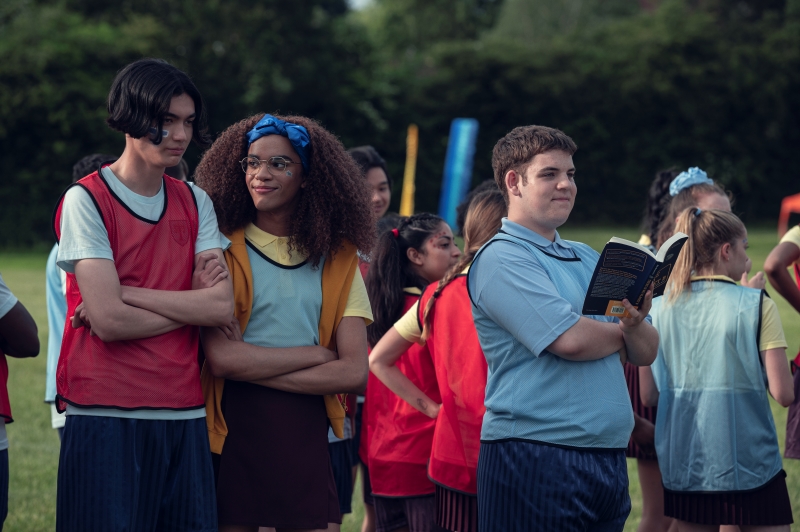 The third member of the friend group seems to be a true introvert. Isaac loves to read and is always there, but the viewer does not get to know him like the others. This representation proves once more that the series shows the diversity of a realistic society. Not every human being has to be an extrovert. Some people like to listen and not speak. They want to be included in group activities but like to stay in the background.
The Happy End?
In the end, Nick and Charlie find their way to each other. After some sneaking around which leads Charlie into the expectation that Nick will be like Ben who only wanted Charlie on demand, Nick finally tells his mom about him being bisexual. They even come out in school. Through a romantic ending, Heartstopper shows the two teenagers finally coming to terms with their problems and confessing their love to the world in an emotional way. The series illustrates how hurtful and rude the world can be, especially towards people that do not fit the norm. But the opposite side is also spotlighted: Love and the good in people can overpower hate and fear. This ambivalent take makes the series a realistic portrait of today's society.
However, with the happy ending of Charlie and Nick, the series is not over yet. Several questions remain unanswered: What is happening between Tao and Elle? Will they be together? Will they get such a romantic and happy end as Charlie and Nick or are they going to ruin their friendship? Hopefully, the second season will answer all the questions about our favorite friend group.